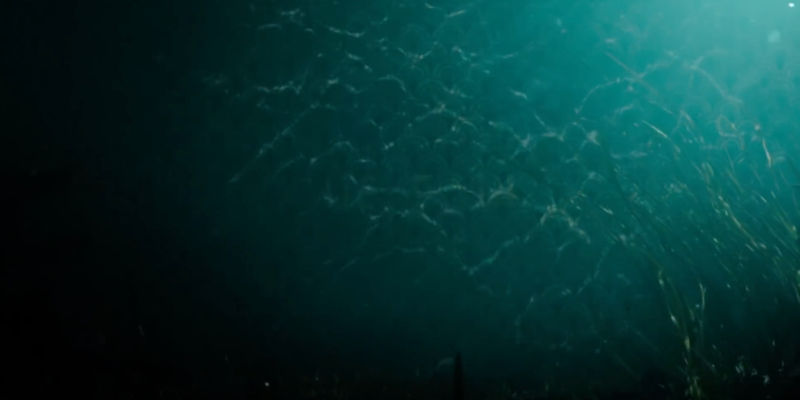 He has brought down rulers from their thrones
but has lifted up the humble.
—Mary, from The Gospel of Luke 1:52-53 (NIV)
Recently, I've been listening to the radio on my commutes home from work. A few days ago, I tuned into a show called The Frame, which was re-airing host John Horn's interview with director Guillermo Del Toro. Now months after the interview, Del Toro's film, The Shape of Water, has gone on to win Academy Awards for set design, score, director, and picture.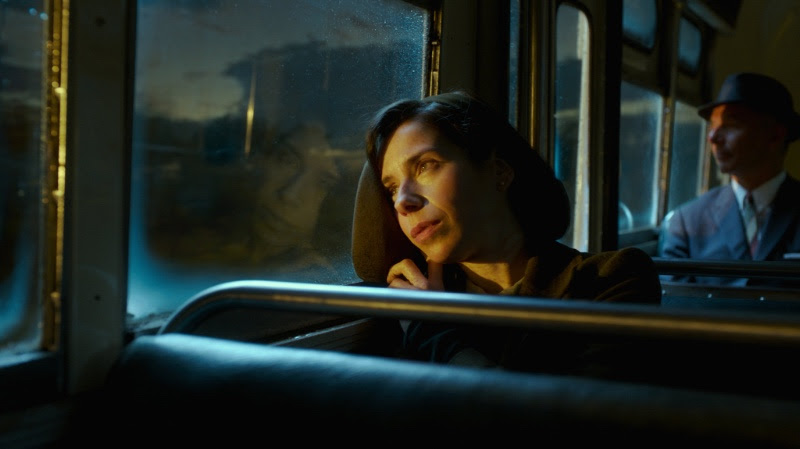 Elisa (Sally Hawkins) rides a bus to and from her job in 1962 Baltimore. 20th Century Fox
The Shape of Water, as Fox Searchlight describes, is "set against the backdrop of Cold War era America circa 1962. In the hidden high-security government laboratory where she works, lonely Elisa is trapped in a life of isolation. Elisa's life is changed forever when she and co-worker Zelda discover a secret."

As I listened to Del Toro share about this film, I noticed themes in what he said that resonate with what I find are important messages for our times. I was also listening to the interview as thoughts arose from my morning journaling, having been recently responding to sections of the Gospel of Luke.

Elisa and Zelda (Octavia Spencer), virtually invisible in their work form a friendship. 20th Century Fox
Luke offers unique insights into the history around Jesus. He shares stories of people interacting with Jesus. He recounts parables that Jesus told. He also highlights more women than any of the other gospels, sharing accounts of 13 women not found in the others. And this goes along with how Luke's account often reveals power structures being flipped upside down. Simply looking at the first two chapters, we find Mary, a young woman being honored by an angel and being given an important and weighty responsibility. And Jesus' birth in a manger, such an important event, was not lauded by the powerful or rich, but the first to hear the good news were shepherds working the night-shift.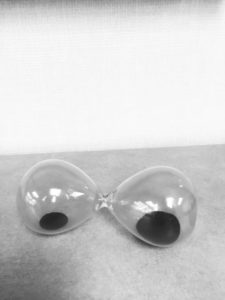 These aspects of the book fit with my picture for this year: an hourglass flipped on its side. One of the things this image speaks to is our need to disrupt or to flip unhealthy, dishonoring, or imbalanced up-down/us-them dynamics. It speaks to how we need to honor people, work for justice and equality, and move in empathy regarding gender, ethnicity, national-origin, belief system, sexuality, or age. I loved that my church began 2018 with a series called "Loving like Jesus in a Fractured World." During one of the messages, my pastor spoke about how "Jesus didn't go after the marginalized—he moved the margins!" What a beautiful picture of shifting the boundaries of love to encompass others.
By reaching out, we challenge the marginalizing of others. We can flip the destructive status quo of us-them, up-down, male-female, national-immigrant…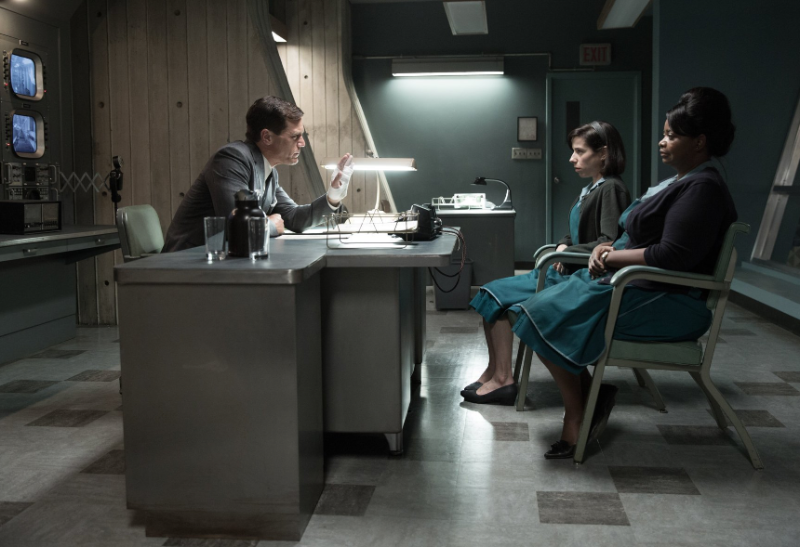 Richard Strickland (Michael Shannon) is a villain of archetypical male power, and yet weakness. 20th Century Fox
And this is a resonating aspect of The Shape of Water. In the interview, Del Toro explained, "It's important in the movie to show people reacting against a guy that looks powerful and invincible. […] This is the paradigm of the B-movie creature movie turned on its head." So, Del Toro's film takes the same track as Luke. It does this by challenging the image of the strong-jawed archetypal male hero, instead casting him as the villain. And it cast the a monster, as a figure worthy of compassion. The film flips the dynamic and gives voice to the voiceless and makes those who would be invisible, visible.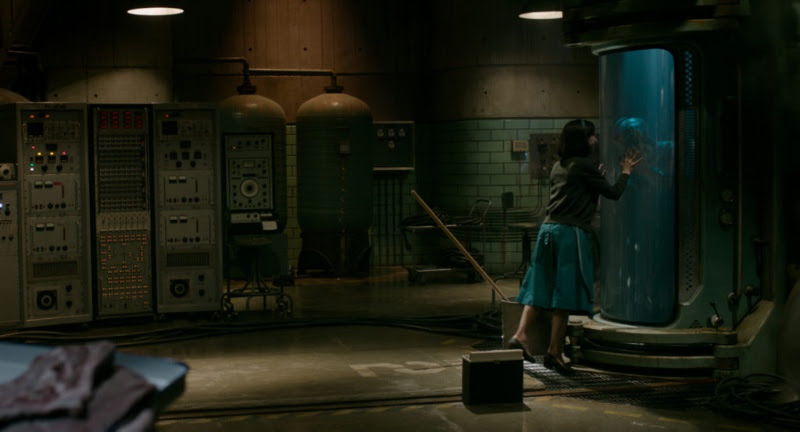 Elisa has a profound ability to connect and show empathy. 20th Century Fox
The film is filled with symbolism to support its deep themes. Green is used heavily throughout, with red used more often as the film progresses, either in its trajectory of love or violence. Elisa's name brings to my mind Pygmalion and My Fair Lady, with their plots of a woman learning to wield her own voice. And movies play in the background of certain scenes, such as the 1960's Story of Ruth, quietly quoting "Your people will be my people."

The story is an adult fairytale, a parable for our times. It blends Beauty and the Beast and the Creature from the Black Lagoon. In it, Elisa, a mute cleaning woman, connects with and then falls in love with an amphibious fish-man. Her loneliness and invisibility resonate with the "othering" of this creature/of him. Her world does too. Her friend Zelda is a black woman in culture of inequality and racism. Her neighbor Giles is a closeted gay man whose career as an illustrator is slipping away. Like the shepherds watching their flocks by night, Elisa and Zelda work the night shift. They are honored with being giving voice and importance in the story. And like Mary in Luke's account, Elisa is swept up into more than she expects. Elisa especially responds throughout the film in ways that powerfully carry its themes.

In being fairytale for adults, the film does not shy away from language, violence, or sex even as it shares its message. Here however, the purpose of this essay is to point out its truths. It shows both the darkness and light of its subjects and the very real conflicts that happen when people contend to be seen, valued, and loved.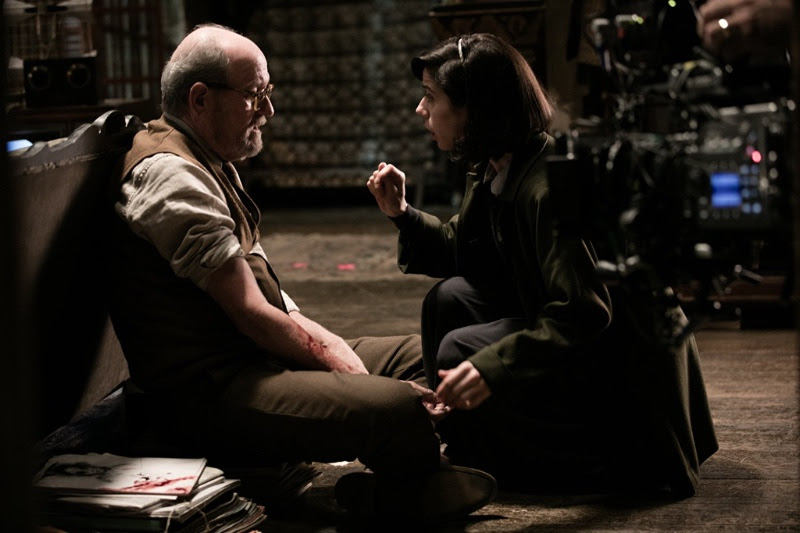 Giles (Richard Jenkins) and Elisa form a bond. 20th Century Fox
Another quote from the interview with Del Toro gives us a glimpse into this and gets at a core of his work: "The essence of love is seeing. That's what love has in common with cinema. When I see you, I grant you your existence as a human being. When I see you as you are, I don't see you as a reporter, I see you as John Horn. I'm giving you a moment of love. This is the most loving thing."

A thought from Rick Warren resonates with this (and I assume Del Toro would agree with me in affirming it): "What is the greatest gift of love? It's not diamonds, flowers, or chocolate. The greatest gift of love you can give is focused attention. You can affirm people just by looking them in the eye, which essentially tells them, 'I value you. What you have to say is important to me because you matter to me.' What people want more than anything else is focused attention. They want to know that their thoughts matter, that their lives matter, that they are valuable."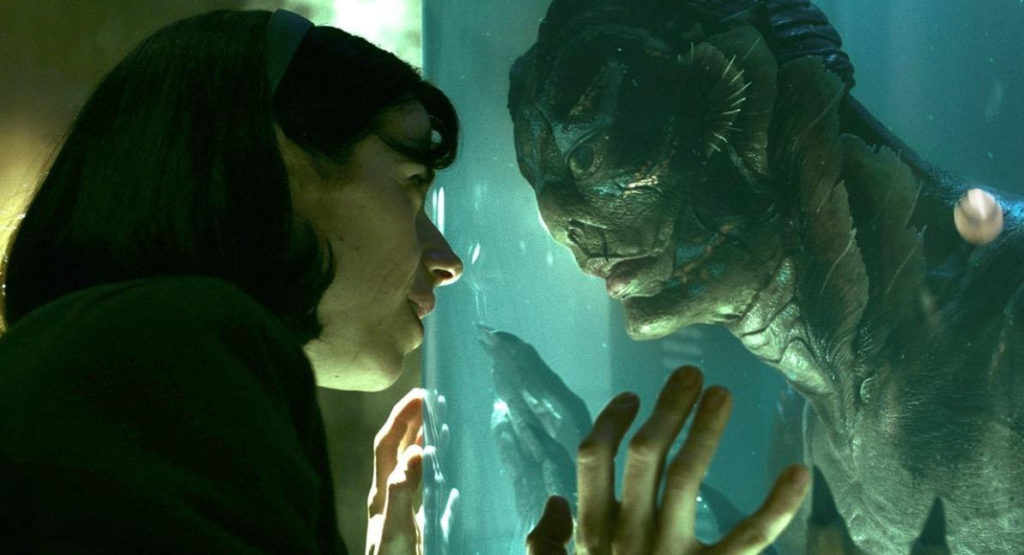 Elisa and the Amphibian Man (Doug Jones) see each other. 20th Century Fox
Both The Shape of Water and the Gospel of Luke share stories of people without voice or visibility being lifted up. Each account uniquely challenges this lack, facing difficulty and darkness with empathy, companionship, belief, humanity, and love.

As Del Toro said in an interview with ABC News, "You can tell the world is difficult, you can tell the world has evil, but then you use these parables to talk about absolutes like love, hope, the abandonment of fear, the love of the other, empathy—they are perfect."