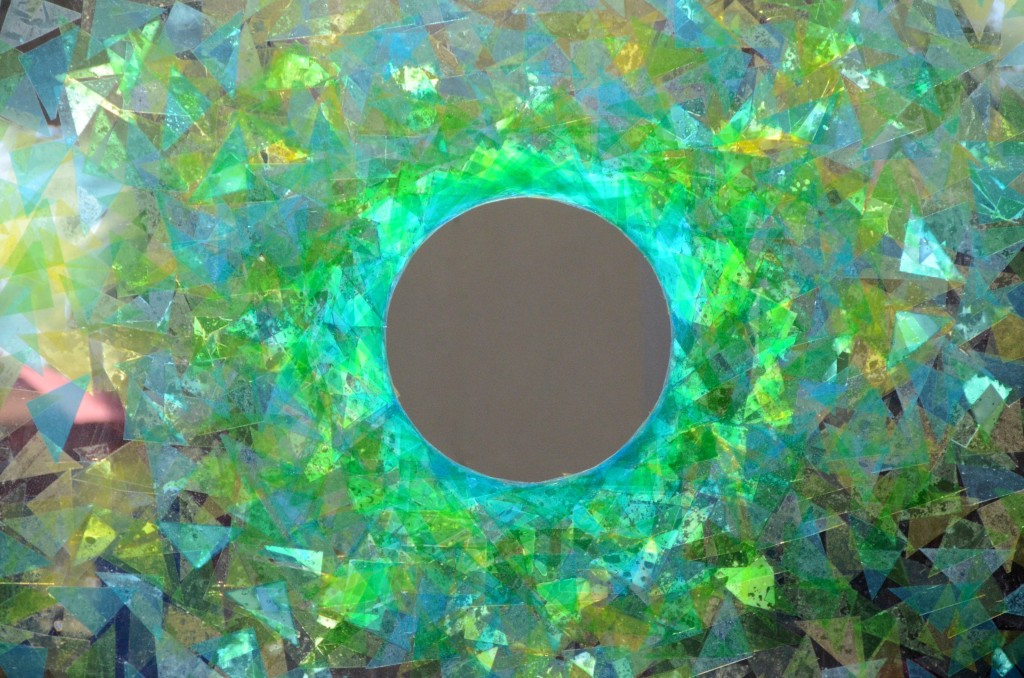 I define art as a "creation that speaks." My art is intended to be in conversation with the viewer.–Steven Homestead
Created with Saddleback Visual Arts
As an active artist and leader with Saddleback Visual Arts, I have had the honor of being the creative force behind many large-scale interactive installations.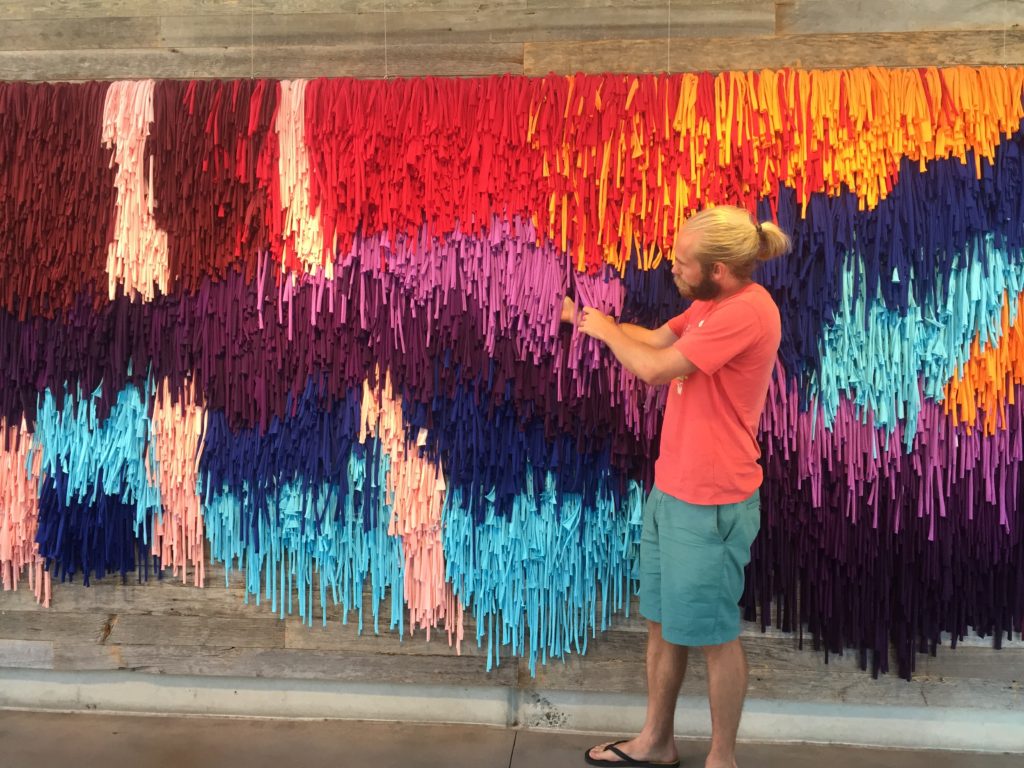 I conceptualized, designed, and lead the creation of The Tapestry of Changed Lives. It was made from over 42,000 hand-cut strips of knit fabric that the public was invited to tie. This ultimately created a 35-foot long tapestry with an image I designed that symbolically represents the history, growth, and future of Saddleback.
The Window of Hope was the second large-scale project I led, in collaboration with my friend Jason Leith (Saddleback Visual Arts Director). We designed for a 7 by 5 foot Plexiglas window to be set in a revolving white wall. We invited attendees of a mental health conference to place colored triangles on the Plexiglas to create a stained glass window. The whole structure moved to catch the sunlight. The public was drawn to interact, create, and take pictures of the colorful light play the work created as the sunlight shone through.
I co-led the creation of the Loop of Resurrection in Lake Forest. The sculptural component was conceptualized by my friend and artist Marius Anctua, a sculptor in Berlin. For Saddleback's observation and celebration of Holy Week and Easter, teams of artists in Berlin and Lake Forest created two unique sculptures out of zip ties. These were the first human forms every to be created out of this material. Leading a team from Saddleback Visual Arts, I developed a version of the sculpture for the culture of Southern California. Find more here.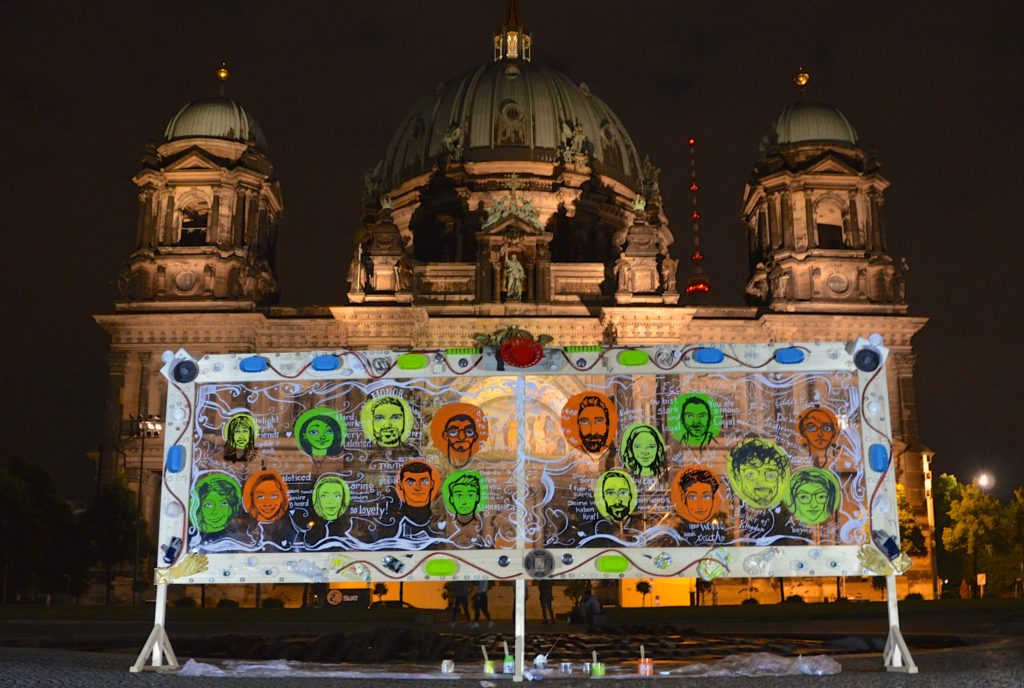 With the first ever Saddleback Visual Arts PEACE team, I traveled to Altea, Spain and Berlin, Germany to implement and exhibit Everyday Icons, an interactive portrait project that began its world spanning tour during Santa Ana's monthly Art Walk.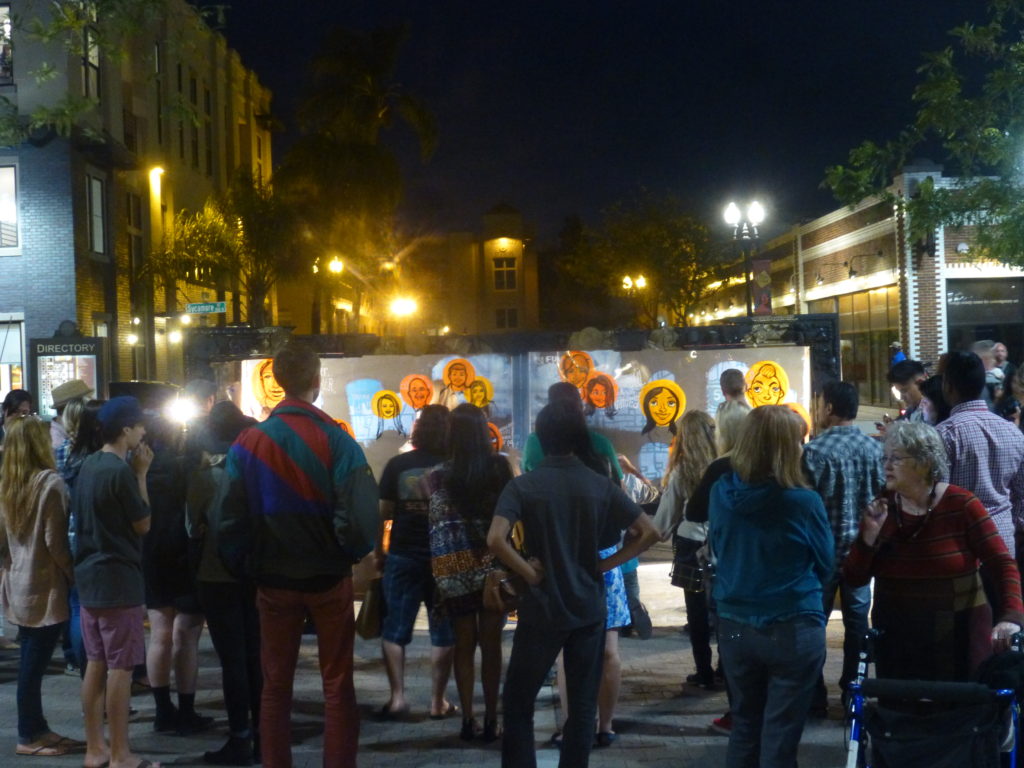 Hope Rooms: Easter | Two Contrasting Wooden Structures with Trash, Rubble, Video Installation, and Live Plants (Marigold, Wild Mustard, Coreopsis)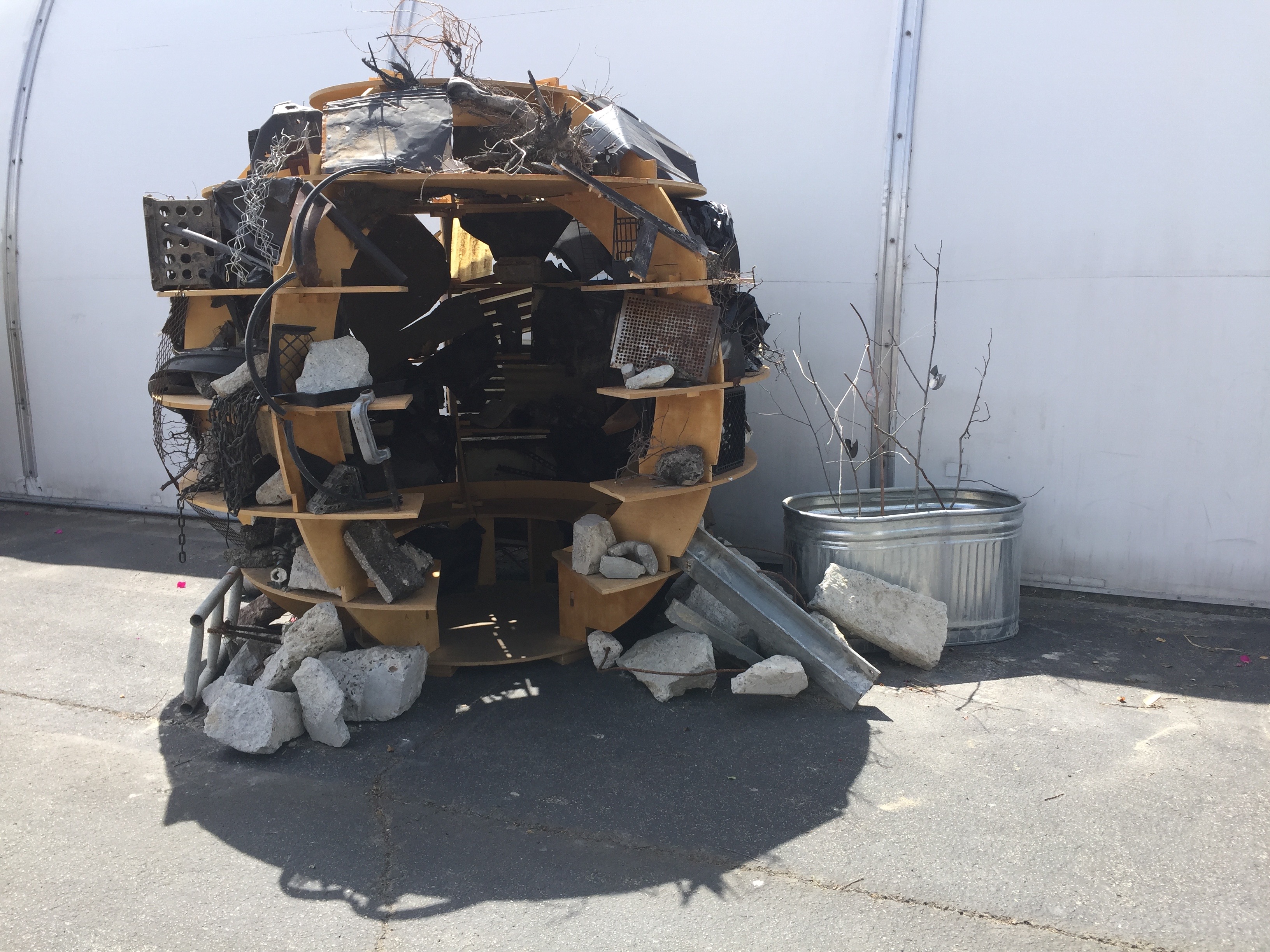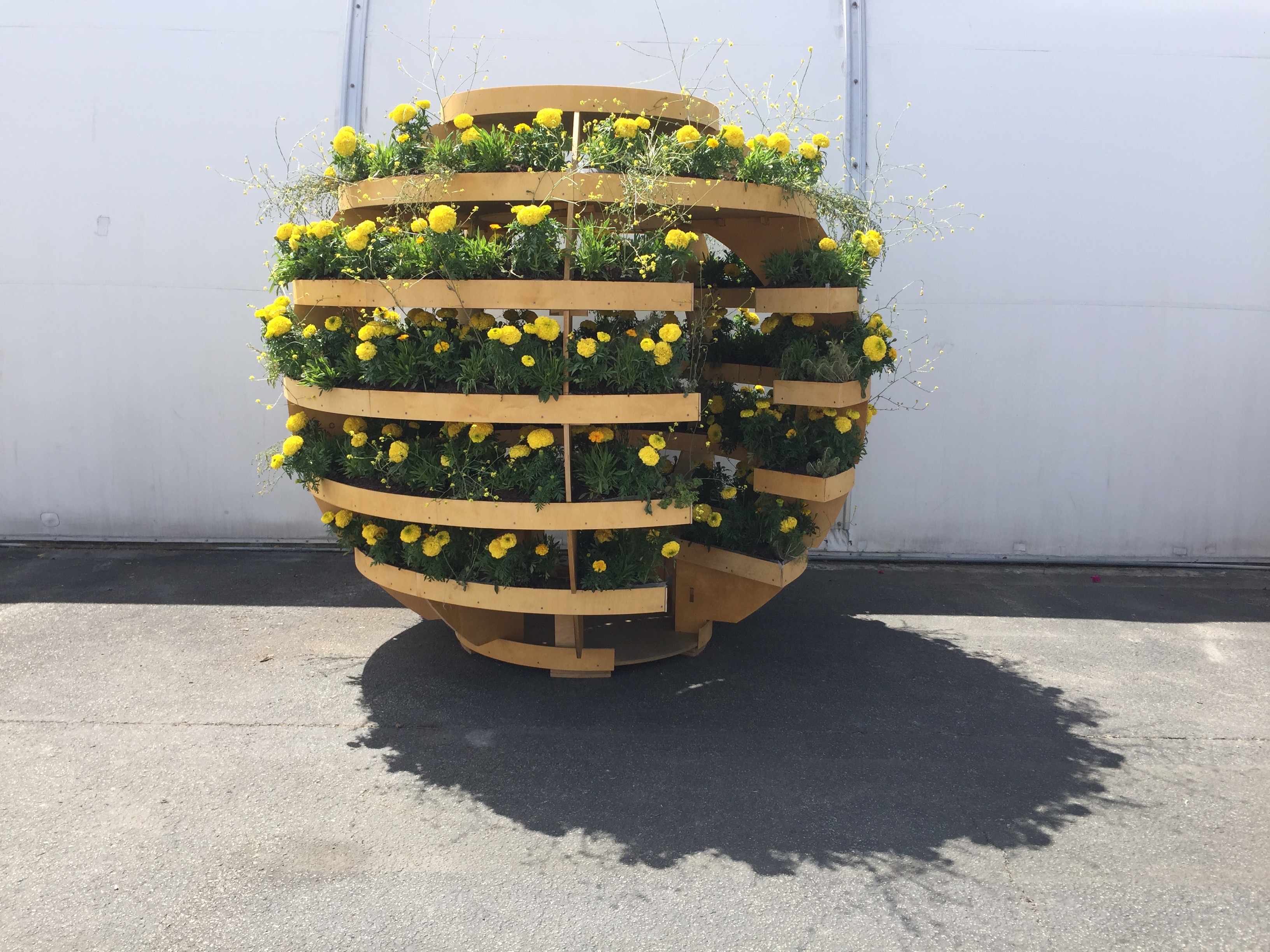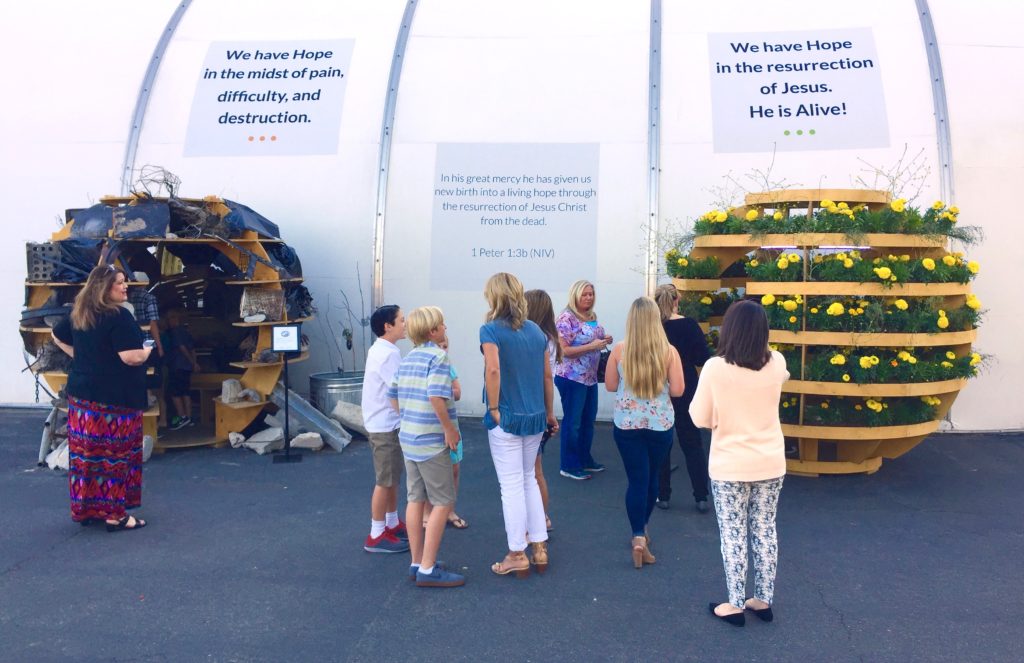 In late 2015, I was asked to develop artistic concepts around the theme of Hope on behalf of some leaders at Saddleback Church. What I imagined came into realization as one the ideas: the creation of spaces centered on Hope, which I call Hope Rooms.
The Hope Room idea could have come to life by way of using shipping containers, or tents, or pop-up architecture, or other creative means, but the purpose behind it was to offer people an experiential space in which to contemplate the symbolism/concept of Hope.
To be clear, I didn't design the structure above (called in the plans a "Grow Room"), it came from architects Mads-Ulrik Husum and Sine Lindholm at SPACE10, a "future-living lab and exhibition space" in the Copenhagen, but the idea of using the underlying structure as a base for Hope Rooms throughout this year was something I saw the possibility in and have championed.
It happened that the idea for Hope Rooms could be actualized through the design. I was able to offer the concept of using these structures for Easter at my church when I started to sense that our message was about representing living hope through flowers and plants… it was not a coincidence.
---
Loop of Resurrection | Zip Tie Sculpture Suspended in Fabric Paneled Pavilion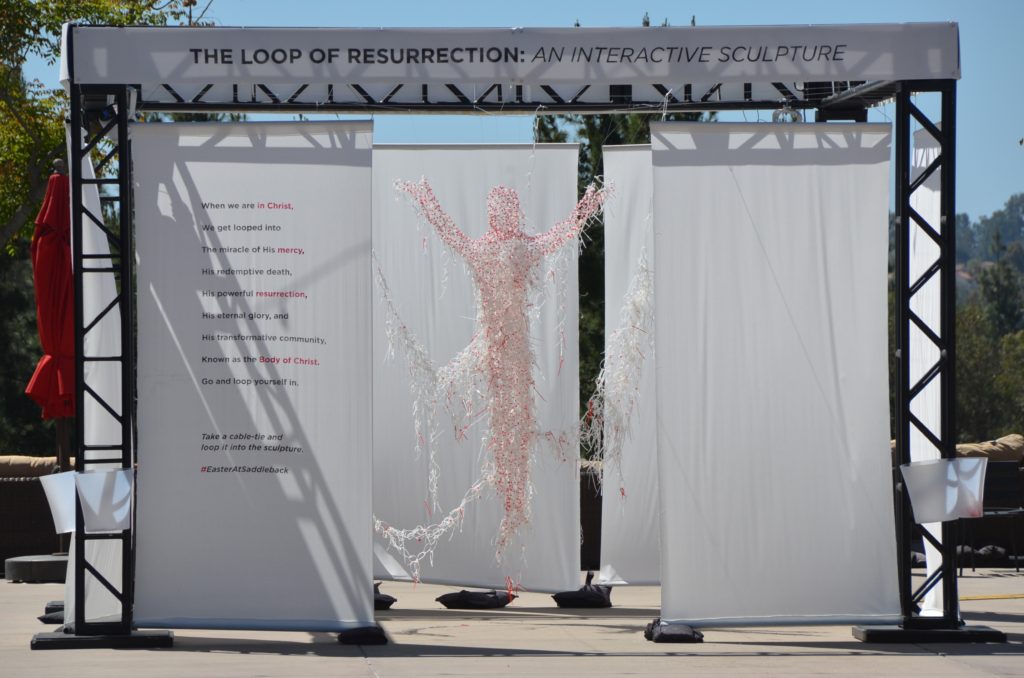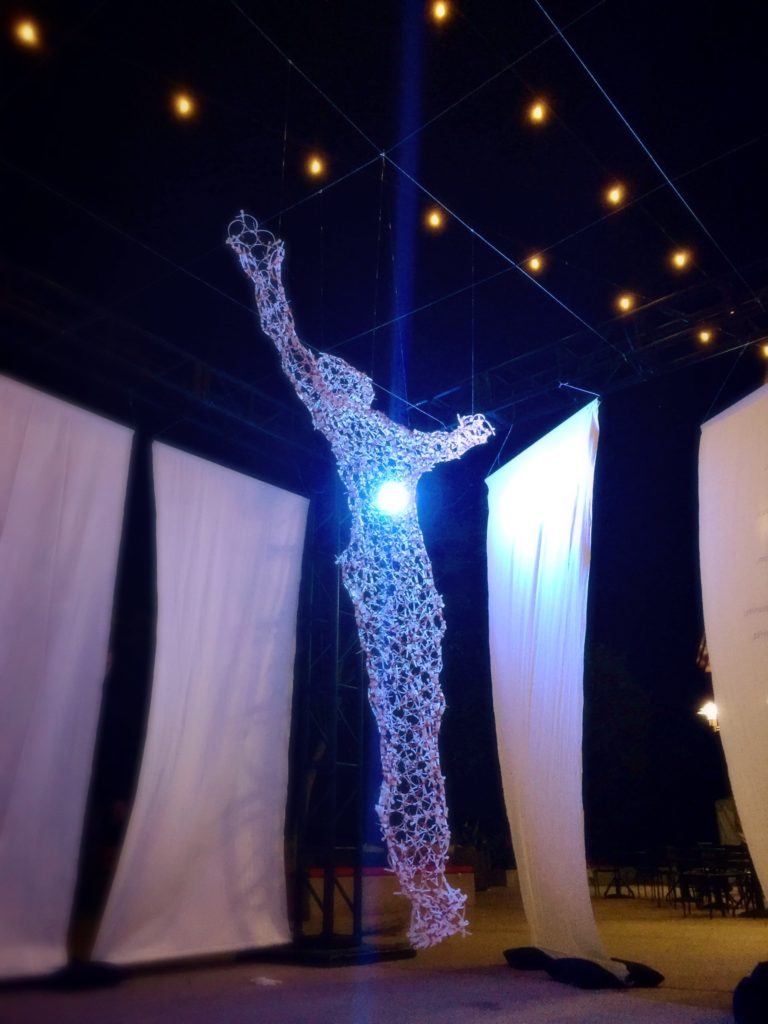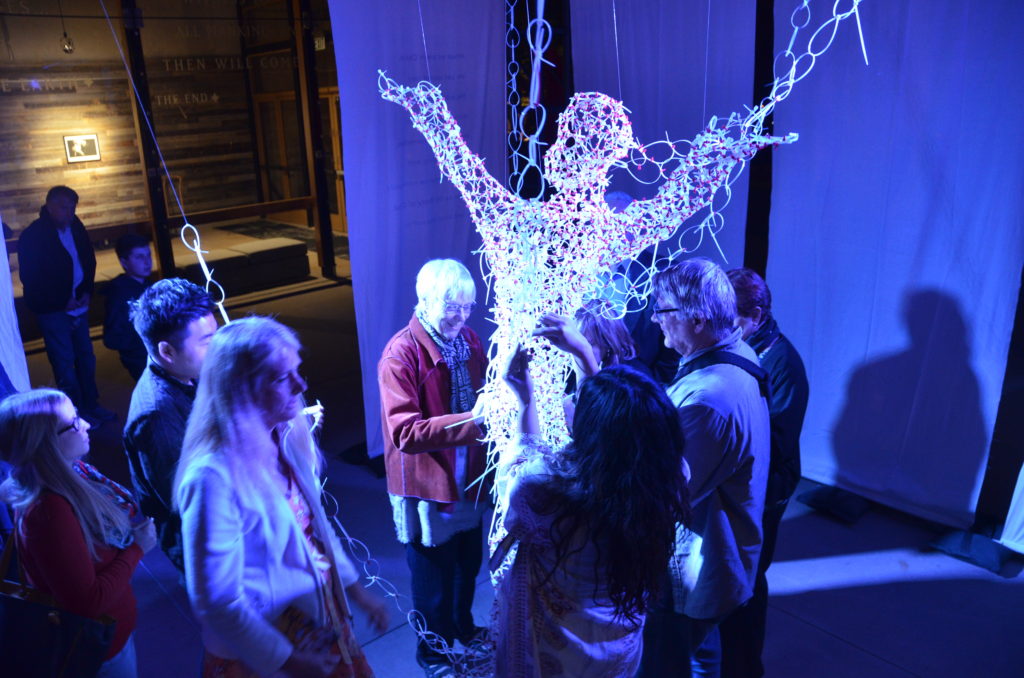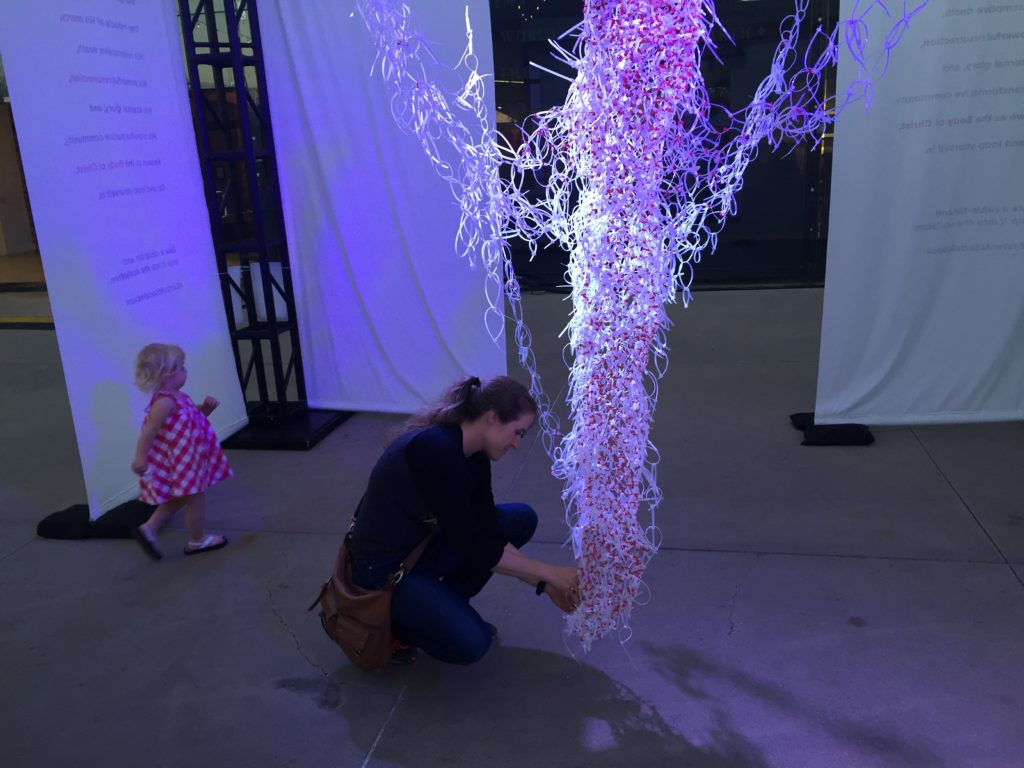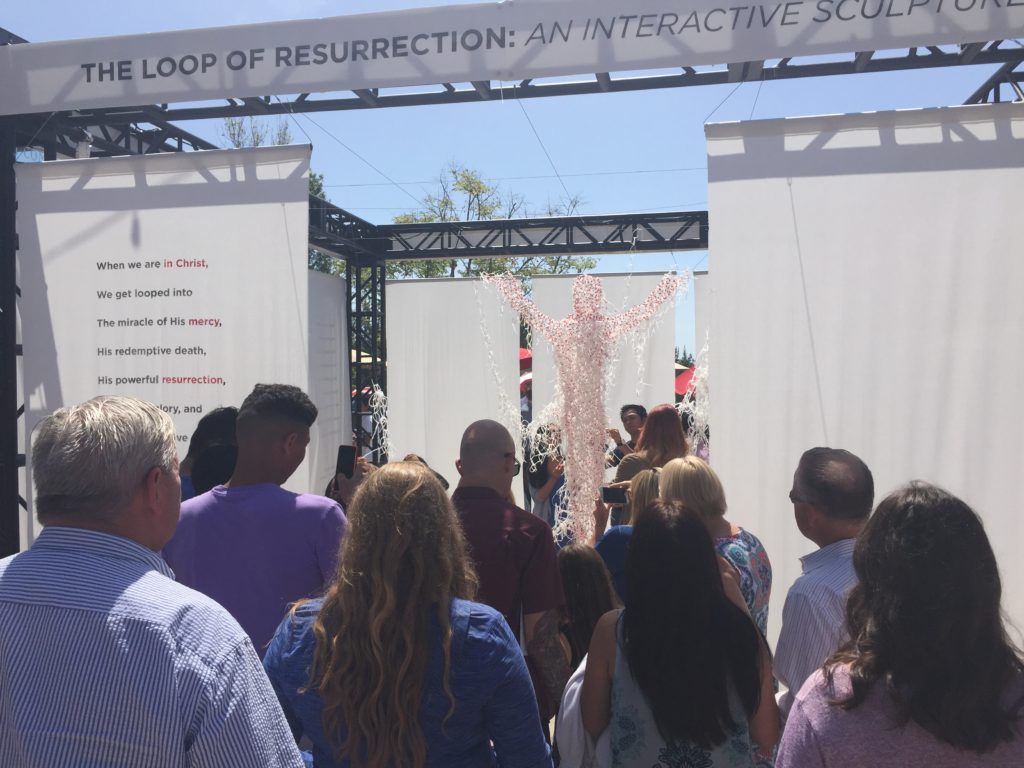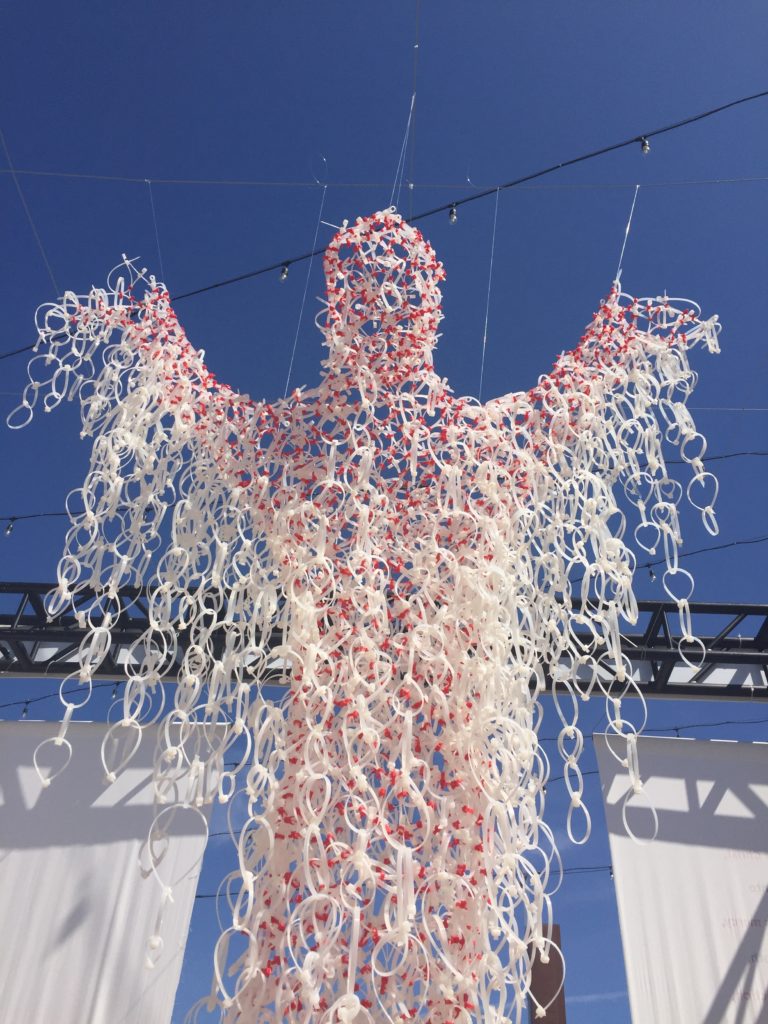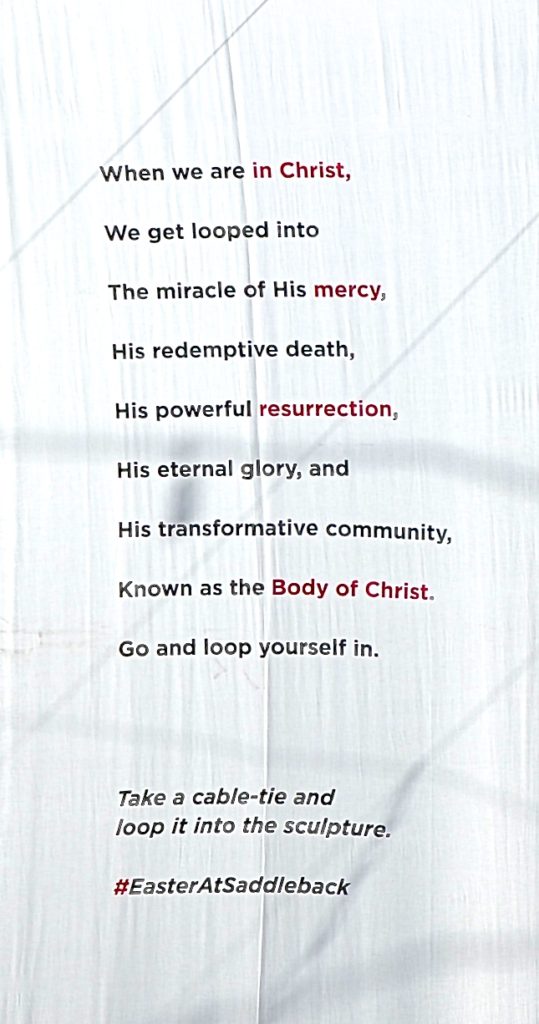 ---
Window of Hope | Cellophane Triangles on Plexiglass set in a Rotating Wall
The Window of Hope shines a message… One where we, as broken people, become more beautiful as we come together around Chirst and His light shines through. We see our lives have purpose. We see that we are not alone. We see that there is hope.
Colossians tells us that "all the broken and dislocated pieces of the universe—people and things, animals and atoms—get properly fixed and fit together in vibrant harmonies" all because of the hope we find in Christ (1:19-20 MSG).
Hope says our lives have a purpose. Hope says we are not alone. Hope says that even though we are each broken in some way, together we are made more beautiful; together we walk toward wholeness; together around Jesus, we shine bright and beautiful.
---
The Tapestry of Changed Lives | Knit Fabric on Industrial Netting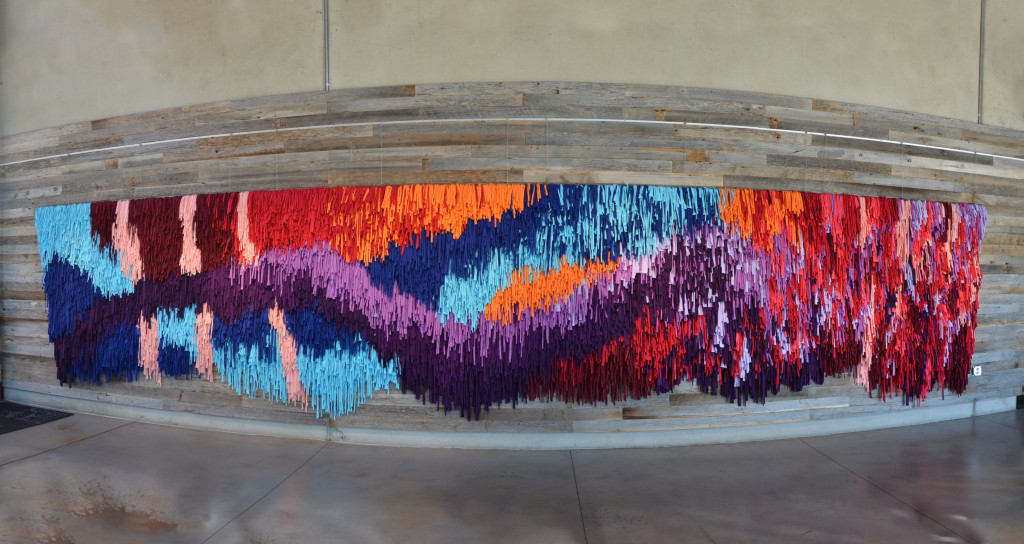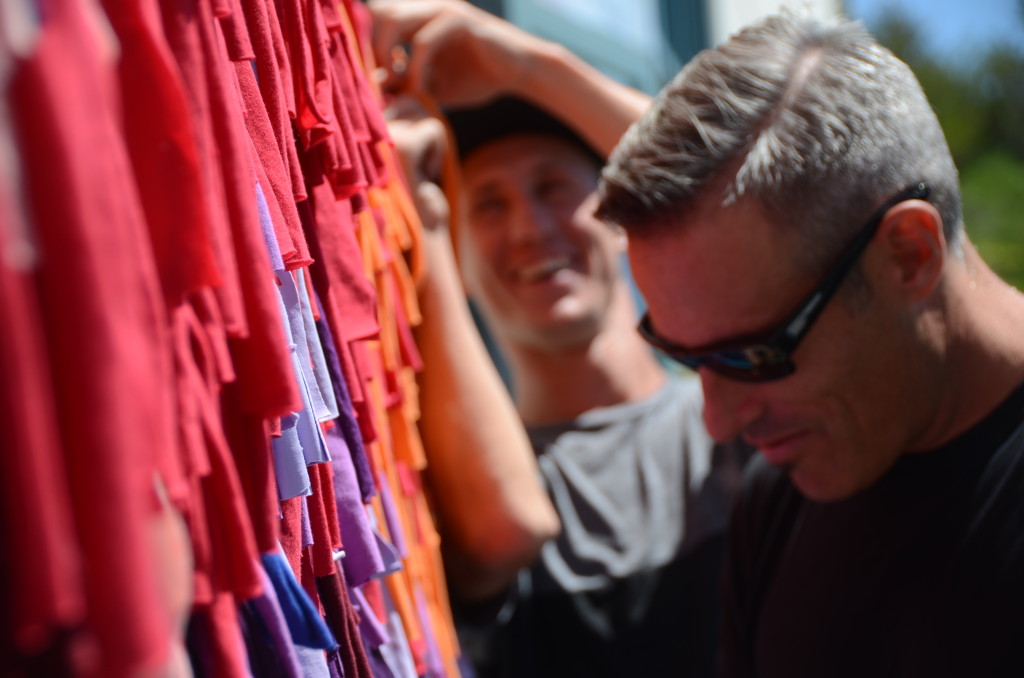 I want you woven into a tapestry of love!
Colossians 2:2 (MSG)
The Tapestry of Changed Lives celebrates the 35th Anniversary of Saddleback Church. It symbolizes the size and scope of our church family and of God's dynamic work in and among us. The pieces of cloth tied in to create the Tapestry represent one of over 40,000 people whose lives have been changed by God through Saddleback, cut from fabric that would stretch over 7 ½ football fields in length. The Tapestry's 35-foot length honors each year that our church has been making a difference to individuals, our communities, and the world.
The Tapestry of Changed Lives is both a work of visual art intended for a gallery setting and one that served as a dynamic interactive piece on which thousands participated. Through its design and the method of its construction, the Tapestry speaks to our relationship with God and each other. In a unique way, it shows us that we are each part of the larger picture of God's purposes and plans through being tied into our church family.
The Tapestry was an interactive art piece for six months. It began to take shape on March 22 2015, when Saddleback Church gathered to remember and celebrate what God had done through the first 35 years. Then, over the summer, it toured Saddleback campuses throughout Southern California. It made its final interactive appearance at the Night of Worship, held at the Lake Forest campus in September.
Through color and line, the Tapestry tells a story of God working in our church family. The overall image represents aspects of God empowering our church and activating us. Although the Tapestry is not a timeline of our church history, the image it creates is one of a determined, purposeful past and a vibrant, energized future. Blue, purple, and red are the foundational colors of the Tapestry, inspired by the first account of woven art in the Bible from the instructions given for the Tabernacle (Exodus 26:31). Warm accent colors of orange, fuchsia, and peach were added in to create a more vibrant picture. The two blue colors create a visual wave that represents the move of God's Spirit. The peach color, as it bursts into the Tapestry in three beams represents the relational nature of our Triune God and how Jesus came in flesh and blood. It is after these beams cross into the design that the brighter colors are activated, and the whole image begins to vibrate and burst forth.
Through experiencing this art, either by taking it in visually or by having participated in it through tying a piece of cloth in, we remember how together we have formed authentic community, found personal growth, and forged bold faith. We look at it and continue to rejoice in the thousands of restored relationships and transformed lives! Over this year of celebration, we have added our moves to the dance, our voices to the song, and our colors to the picture!
© Steven Homestead. All rights reserved.