Saints and Icons: An Ancient Lens for Our Polarized Times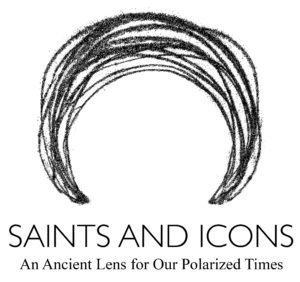 by Steven Homestead
Then Ananias answered, Lord, I have heard by many of this man, how much evil he hath done to thy saints […] But the Lord said unto him, Go thy way: for he is a chosen vessel unto me.
—Acts 9:13,15a (KJV)
For now we see in a mirror dimly, but then face to face; now I know in part, but then I will know fully just as I also have been fully known.
—1 Corinthians 13:12 (NASB)
Human nature can blind us to the divine potential in others. Saints and Icons offers a lens to see this possibility, even in polarizing figures whose potential beauty is often placed in exile by opposition. Through symbolic halos, these portraits challenge us to seek the sainthood that God might see in others.
In the first few years of the early Church, if you were to ask me as an artist to depict Saul of Tarsus, the zealous persecutor, and I came back to you with a glowing and positive portrait, you might be confused or outraged. But what you wouldn't have known is that I was painting him through the lens through which God saw him.
Saul became Paul in a powerful and life-changing encounter. In the process, he was blinded for several days, having something like scales over his eyes. These scales, lenses if you will, were so dark he wasn't even capable of seeing "as in a mirror dimly." This blindness made him dependent and immobile yet also corresponded to the blindness with which he faced the truth of God and the new movement of the Way. Likewise, our human nature often obscures the capacity for divine potential that others might be called into. Saints and Icons asks viewers to see this potential.
Saints and Icons is a collection of portraits that challenges each of us in our perceptions of ourselves, of others, and of those we might oppose. As the number of portraits in the project grows, the project will ultimately confront people from many spectrums. It will ask them to welcome reconciliation and God's blessings into the lives of others they most likely have never even met.
The portraits in Saints and Icons invite viewers to consider questions of value and identity. The saint inspired images hopefully open us to thoughts and dialogue on our stance in opposing verses supporting, blessing verses cursing, tearing down verses building up. This is especially important in our current culture, as discourse has become more polarized. As society has moved from analog to digital, so too has culture. Subtleties in analog music, thought, or dialogue have been replaced by the binary polarization of 1s and 0s, of on and off. We have moved toward the mindset that "you're either with us or against us." It is into this culture and our times, that each image in Saints and Icons places a halo as a symbolic "sainting," whether this is for myself, people from my community, or polarizing figures in the public eye.
The images of myself as a saint are photographs that play into selfie culture but also comment on the importance of self-image. Because art inherently reflects its creator, how artists view themselves bears on what they create. The portraits of community members are graphite pencil sketches. Finally, the portraits of polarizing public figures are done in acrylic paint, on panels shaped to reference altarpieces. As the project grows, and "canonizes" more figures, these images will ultimately be depictions of many public figures. However, the first collection will include St. Hillary Clinton, St. Lance Armstrong, St. Rob Bell, St. Paula Dean and a fifth a crowd-sourced saint.
I invite you, as you look at the portraits, to see others through the lens of what is possible, to try out this ancient lens in our polarized times, and to seek to bring the beauty, even of the most difficult people, out of exile.
Explore more images from my Instagram #saintsandicons.
© Steven Homestead. All Rights Reserved.