Mercy and Art in Action: Empowering a Look, a Word, and a Touch


I've been a part of Saddleback Church for a while now and one of Pastor Rick's teachings I've seen this community live out is, "Everyone deserves a look, a word, and a touch." It's what Jesus modeled. He paid attention to people, seeing where they were, affirming their value, speaking life giving words to them, encouraging them, and addressing their need for comfort and healing. Jesus gave a look, a word, and a touch.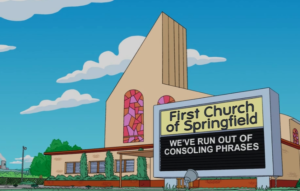 Now, although this is what Jesus taught us to do, cultural reaction to the Church has shown that we have not fully followed Him in this. Although Saddleback Church and others have reached many by living this out, overall the Church has ceded ground. People outside the Church do not turn to it to find value, to seek encouragement, or to meet their needs. Many churches are struggling, having lost cultural permission to reach their communities. The answer to this is Mercy. It is the attribute of God that empowers our look, word, and touch. The recent Miracle of Mercy campaign at Saddleback taught that Mercy is "love in action." And so, if people won't listen and won't come, we can reach out with the touch of Mercy. We can act to change how people view the Church, opening them to be receptive to our message when they see and experience our love in action. As we often quote Theodore Roosevelt at Saddleback, "People don't care how much you know until they know how much you care." We much reach our communities with practical acts of love. We must take up leadership in giving a meaningful touch.
God sends spiritual waves and there are two converging this year that the Church can chose to ride. One is Mercy. Under the leadership of Pope Francis and Pastor Rick Warren, both the Catholic Church and Saddleback are focusing on Mercy this year.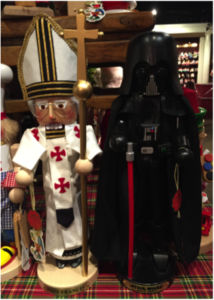 Even for me, the coming empowerment of Mercy is why, back in December, I placed two nutcrackers together to create a picture with the caption: #Mercy meets the merciless. Two iconic fathers… #PopeFrancis and #DarthVader!
Now art? Art! Art is the other wave. Art is an action. Art speaks a message. Art reveals. Art can do all this destructively or negatively, but in the hands of the Church, it gains its true power. Ultimately, Art has the ability to give a look, a word, and a touch—all at once! Art can be love in action. In fact, art must be an action. Art isn't much until the idea of it becomes a reality through an act, such as drawing, or painting or sculpting etc. In this way, art is incarnational. Mercy is an action too, it isn't just a thought. Both Art and Mercy then embody a thought. This incarnational aspect of Art and Mercy is something my friend Jason seeks to live out.
Jason has spent time on Skid Row, drawing portraits of the homeless there, giving them a look, a word, and a touch. His art had a direct hand in helping one man get himself off the street and into rehab for drug addiction.
This window to life change that Jason engaged people with on Skid Row was present on our mission trip last summer. The team from Saddleback Visual Arts found that our art made a difference. One night, our Everyday Icons art project impacted a young man, showing him his identity in God. It touched him with an art expression that helped him make a decision to follow Christ.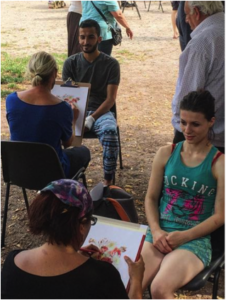 We also drew portraits for refugees in Berlin. Making physical objects they could keep, created from their identity, drawn onto an image that spoke of new life. Not only did we speak through both an act and through art, but we could leave something behind, which one day might be something one of them looks at and finds Jesus. We hope with expectancy.
And so, the recent spiritual growth campaign at Saddleback reminded us that Mercy is love in action. Now, as the Church must rely on Mercy to advance God's message, Art will prove a powerful means to express that love in action. Mercy and Art are important all the time, but God is empowering them now as we move forward in this developing harvest season. Used effectively, they will allow the Church to build God's kingdom in powerful and effective ways as we give a look, a word, and a touch.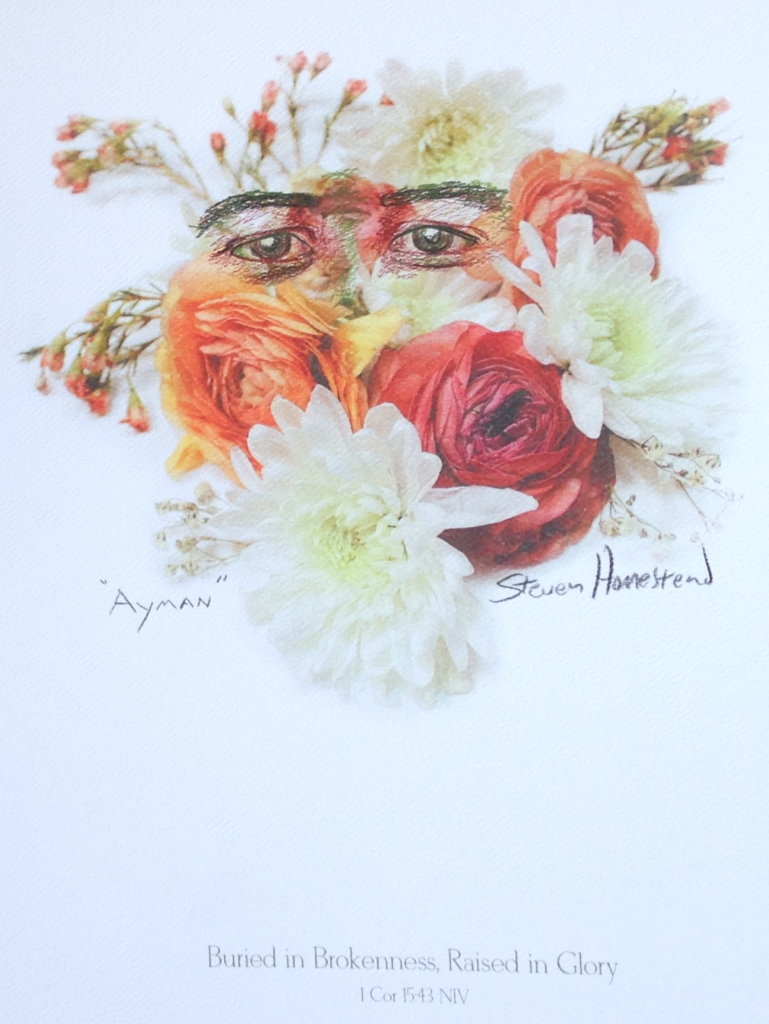 © Steven Homestead. All rights reserved.